Why is it different?
1% BHA Exfoliant's new + improved hydrating formula is packed with skin-soothing ingredients that target the underlying causes of sensitivity. Get all the results of an anti-aging BHA in an extra-gentle form that even rosacea-prone skin can use. Skin-healing allantoin offers additional soothing benefits.

This exfoliant has an optimal pH range of 3.5-3.8.

The bottle for this full-sized product is made from 96% recycled material (excluding cap and pump).
What does it do?
Gently exfoliates skin's surface and inside pores to encourage visible renewal, improve oil flow, reduce redness and clarify uneven tone. Skin-soothing plant extracts ease sensitivity while BHA helps refine the look of enlarged pores and wrinkles. Gentle enough even for those with skin prone to rosacea.
How to use?
Apply once or twice daily after cleansing and toning. Apply a dime-sized amount over the entire face, including the eye area (avoid the lower lash line and eyelids). Do not rinse. For daytime, follow with a broad-spectrum sunscreen rated SPF 30 or greater.

If you have a salicylate allergy, check with your physician before using any products that contain salicylic acid.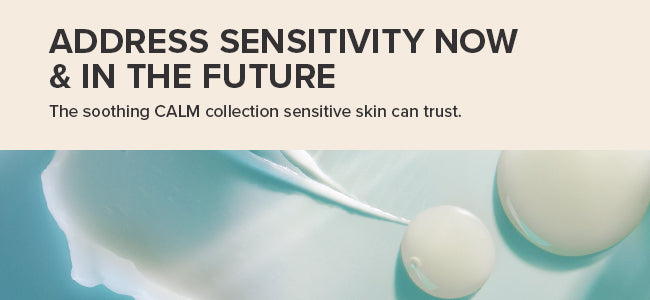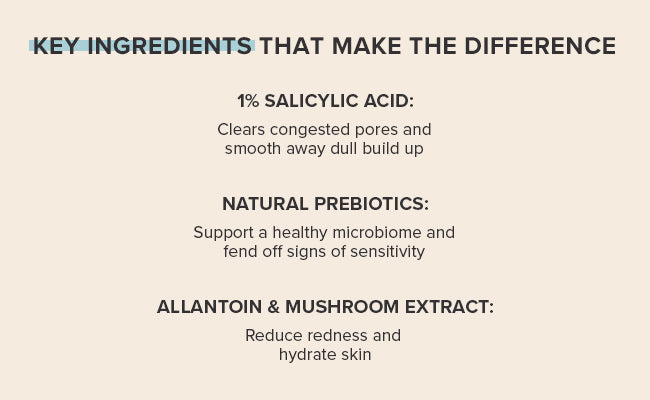 RESEARCH
International Journal of Dermatology and Venereology, December 2021, pages 199–209
Journal of Global Health, July 2021, pages 1–15
Biomolecules, March 2021, pages 1–25
Microorganisms, January 2021, pages 1–14; and December 2020, pages 1–14
Cosmetics, October 2020, pages 1–10; and October 2017, pages 1–16
International Journal of Biological Macromolecules, June 2020, pages 600–607
Natural Products and Bioprospecting, August 2019, pages 267–278
International Journal of Cosmetic Science, August 2017, pages 379–385
Journal of Dermatological Treatment, July 2016, pages 173–180
Skin Research and Technology, May 2013, pages 125–130

INGREDIENTS
Key Ingredients
Salicylic Acid⁠, Allantoin⁠, Inulin⁠, Alpha Glucan Oligosaccharide⁠, Albatrellus Confluens (Mushroom) Extract⁠

All Ingredients
Water⁠, Methylpropanediol⁠, Dicaprylyl Carbonate⁠, C15-19 Alkane⁠, Hydroxyethyl Acrylate/Sodium Acryloyldimethyl Taurate Copolymer⁠, Salicylic Acid⁠, Propanediol⁠, Inulin⁠, Caprylyl Glycol⁠, Allantoin⁠, Tocopherol⁠, Sodium Hydroxide⁠, Ethylhexylglycerin⁠, Hexylene Glycol⁠, Sorbitan Isostearate⁠, Alpha Glucan Oligosaccharide⁠, Glycerin⁠, Laminaria Digitata Extract⁠, Albatrellus Confluens (Mushroom) Extract⁠, Glycine Soja Oil⁠, Opuntia Ficus-Indica Stem Extract⁠, Galactorarabinan ⁠, Citric Acid⁠, Schizophyllan⁠, Maltodextrin⁠, Phenoxyethanol⁠
FAQ
What makes the CALM 1% BHA Sensitive Skin Exfoliant different than other Paula's Choice BHA exfoliants?
<br><br>
While all Paula's Choice BHA (salicylic acid) products are non-abrasive and exfoliate skin's surface, the CALM 1% BHA Sensitive Skin Exfoliant was specifically formulated with redness and reactivity in mind. This product not only exfoliates and smooths skin, but it also works to improve signs of sensitivity. It's a great example of what we mean by multitasker.
<br><br>
What is the difference between the original CALM Redness Relief 1% BHA Lotion Exfoliant and the new CALM 1% BHA Sensitive Skin Exfoliant?
<br><br>
While both contain 1% salicylic acid along with a host of soothing ingredients, the new CALM 1% BHA Sensitive Skin Exfoliant has a thinner, cream-gel texture that's more hydrating. It also contains a broader array of soothing ingredients such as northern truffle (mushroom), prickly pear and double the amount of skin-healing allantoin that work together to target the underlying and outward causes of sensitive/reactive skin, while removing dulling buildup and decongesting pores.
<br><br>
How often should I use the CALM 1% BHA Sensitive Skin Exfoliant?
<br><br>
It's best to gradually build up use of a BHA product. Start by using once every other day and then increase usage to once or twice daily based on your skin's response. Experiment to see what suits your skin best. During the day, always use a moisturizer with a broad-spectrum sunscreen rated SPF 30 or greater.
<br><br>
If I use a topical prescription for rosacea, can I also use the CALM 1% BHA Sensitive Skin Exfoliant?
<br><br>
Yes. In fact, the soothing formula of the CALM 1% BHA Sensitive Skin Exfoliant works with any topical prescription medication used for managing symptoms of rosacea. Apply the CALM 1% BHA Sensitive Skin Exfoliant after cleansing and toning and then follow with your nighttime moisturizer (or apply as directed by your doctor). It's also an option to apply your prescription product at night and the 1% BHA during the day. For daytime, be sure to follow with a broad-spectrum sunscreen SPF 30+. If new to salicylic acid, start with 2-3 times per week and work up to daily application as needed.
<br><br>
If I have sensitive skin, can I use a higher strength BHA?
<br><br>
Which BHA strength you opt to use should be based on your skin type and severity of your concerns. The CALM 1% BHA Sensitive Skin Exfoliant is ideal for extra-sensitive skin and likely will be all you need to improve any surface texture or pore congestion issues you may be experiencing.