Why is it different?
CALM Repairing Serum is a state-of-the-art formula that combines skin-replenishers and anti-aging ingredients like ceramides and beta-glucan with antioxidant-enriched plant extracts that research has shown to be among the most beneficial for sensitive skin
What does it do?
Provides immediate relief for sensitive skin while targeting signs of aging with gentle levels of effective anti-aging ingredients. Repairing antioxidants work to keep skin healthier, youthful-looking and resilient over time. Nourishing for all skin types and gentle enough even for skin prone to rosacea.
How to use?
Smooth a few drops onto face, neck and eye area before moisturizing (or use alone, in place of moisturizer). For optimal results, use AM and PM. For daytime, follow with a broad-spectrum sunscreen rated SPF 30 or greater.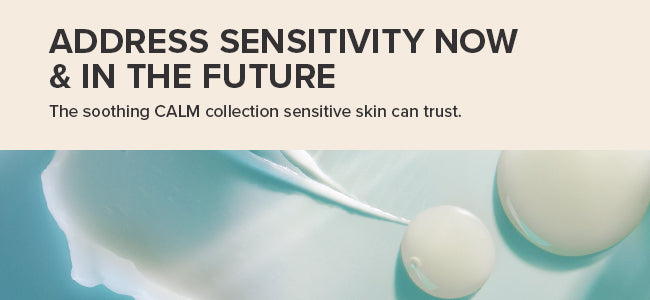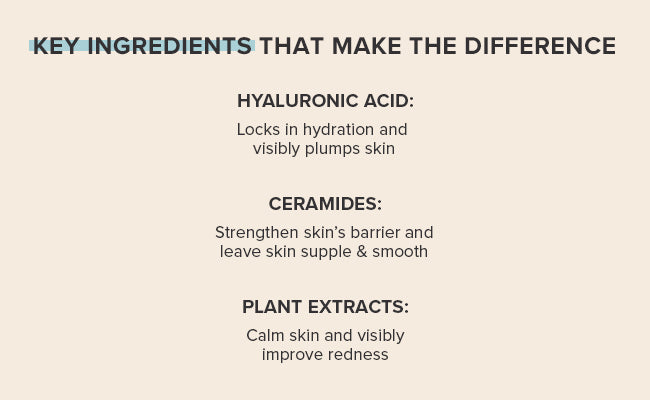 RESEARCH
International Journal of Biological Macromolecules, August 2021, pages 876–889; and September 2018, pages 572–584
Journal of Cosmetic Dermatology, June 2021, pages 1,756–1,762
Journal of Drugs in Dermatology, April 2021, pages s3–s9 and s17–s22
Clinical, Cosmetic and Investigational Dermatology, October 2020, pages 751–758
Pharmaceutical Biology, August 2016, pages 5–18
The Journal of Dermatology, March 2012, pages 295–300
Archives of Dermatological Research, February 2008, pages 69–80
Marine Drugs, June 2004, pages 73–82
INGREDIENTS
Key Ingredients
Hyaluronic Acid⁠, Ceramides⁠, Feverfew Extract⁠, Glycyrrhiza Glabra (Licorice) Root Extract⁠, Beta-Glucan⁠

All Ingredients
Water⁠, Glycerin⁠, Sodium Lauroyl Lactylate⁠, Sodium Hyaluronate⁠, Polysorbate 20⁠, Caprylic/Capric Triglyceride⁠, PEG/PPG-14/4 Dimethicone ⁠, Xanthan Gum⁠, Disodium EDTA⁠, Sodium Cocoyl Amino Acids⁠, Ceramide NP⁠, Ethylhexylglycerin⁠, Epilobium Angustifolium (Willow Herb) Extract⁠, Ceramide AP⁠, Cholesterol⁠, Phytosphingosine⁠, Beta-Glucan⁠, Sarcosine⁠, Carbomer⁠, Chrysanthemum Parthenium (Feverfew) Flower Extract ⁠, Sea Whip Extract⁠, Glycine Soja (Soybean) Seed Extract ⁠, Hyaluronic Acid⁠, Glycyrrhiza Glabra (Licorice) Root Extract⁠, Ceramide EOP⁠, Magnesium Aspartate⁠, Potassium Aspartate⁠, Ubiquinone⁠, Phenoxyethanol⁠, 1, 2-Hexanediol⁠, Caprylyl Glycol⁠, Leuconostoc/Radish Root Ferment Filtrate⁠, Calcium Chloride⁠, Propylene Glycol⁠, Tocopherol⁠, Sodium Metabisulfite⁠, Pentaerythrityl Tetra-Di-T-Butyl Hydroxyhydrocinnamate⁠, Sodium Benzoate⁠, Potassium Sorbate⁠
FAQ
The CALM Repairing Serum is in different packaging. Is it a new formula as well?
<br><br>
Although the formula hasn't changed from the one you know and love, new regulatory requirements and an audit of the previous ingredient list revealed some changes were necessary to the original order of ingredients and the ingredient list became longer. The regulatory requirement comes from the European Union and means we're now listing what's referred to as "incidental ingredients". Incidental ingredients are cosmetic ingredients used as part of a blend to preserve or stabilize key ingredients; however, once added to a cosmetic formula, they have no effect since the amounts are vanishingly low. The incidental ingredients in this serum were always present. They weren't listed previously since most markets do not require this (again, this is due to the amounts of such ingredients being too low to have an impact on the formula or your skin). We apologize for the confusion and are happy to assure you the formula truly remains the same.
<br><br>
How does the CALM Repairing Serum differ from other Paula's Choice serums?
<br><br>
The CALM Repairing Serum is specifically formulated for those with persistent redness and/or extra-sensitive skin. Its mix of skin-replenishers, soothing antioxidants and barrier-strengthening ingredients were chosen for their gentleness and ability to reduce reactivity now and in the future. The formula is suitable for all skin types, including those prone to breakouts, rosacea and eczema.
<br><br>
Where in my routine do I use the CALM Repairing Serum?
<br><br>
The CALM Repairing Serum can be applied after cleansing, toning and exfoliating (if applicable). If using other boosters, serums or treatments, apply in order from thinnest to thickest. For daytime, be sure to always follow with a broad-spectrum sunscreen SPF 30+.
<br><br>
How long will it take to see an improvement for my red skin when using the CALM Repairing Serum?
<br><br>
It depends on the cause of your redness and skin health, but most people will see redness relief within a few hours of applying the CALM Repairing Serum. Ongoing use will continue to improve these initial results, especially if your entire skin care routine is gentle, fragrance-free and you're good about applying sunscreen every day.
<br><br>
Can I use CALM Repairing Serum if I don't have red or irritated skin?
<br><br>
Absolutely! In fact, the combination of soothing and skin-restoring ingredients plus nourishing gentle, non-fragrant plant extracts are a great option for all skin types.
<br><br>
Can I use the CALM Repairing Serum if I have acne, blemish-prone skin and/or post-blemish marks?
<br><br>
Yes, the anti-irritants, ceramides and soothing agents in the CALM Repairing Serum are suitable for those with blemish-prone skin and post-blemish marks. This serum will also help reduce flaky skin due to anti-acne treatments. The CALM Repairing Serum is also a great option to use with our CLEAR anti-acne collection, as its super-light texture feels weightless (never greasy) and it layers well with each product. Remember to apply a broad-spectrum sunscreen SPF 30+ to protect skin and prevent post-blemish marks from getting worse.
<br><br>
Can I use the CALM Repairing Serum with topical medications for rosacea?
<br><br>
Yes, the CALM Repairing Serum works with any topical prescription medications for managing symptoms of rosacea. You may apply this serum before or after your topical prescription, or as directed by your doctor.