Why is it different?
CALM Nourishing Milky Toner's new + improved mix of skin-replenishing and anti-aging ingredients smooth, soften and visibly lessen redness. Ophiopogum japonicus root supports skin's microbiome + barrier to help prevent signs of sensitivity. Marshmallow root shields from irritants while providing emollient and skin-healing benefits.

The bottle for this full-sized product is made from 96% recycled material (excluding cap and orifice reducer).
What does it do?
Instantly hydrates and soothes with a specialized mix of antioxidants and skin-replenishing ingredients for healthier, more resilient skin over time. Ongoing use helps reduce signs of sensitivity and visible aging. Gentle enough even for skin prone to rosacea.
How to use?
After cleansing, apply toner to a cotton pad and gently stroke over face and neck. Do not rinse. Follow with the rest of your morning or evening skin care routine. For daytime, finish with a broad-spectrum sunscreen rated SPF 30 or greater.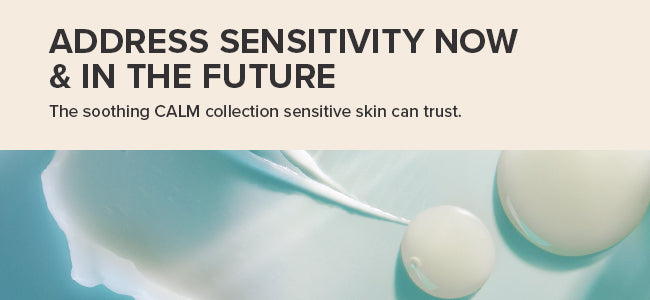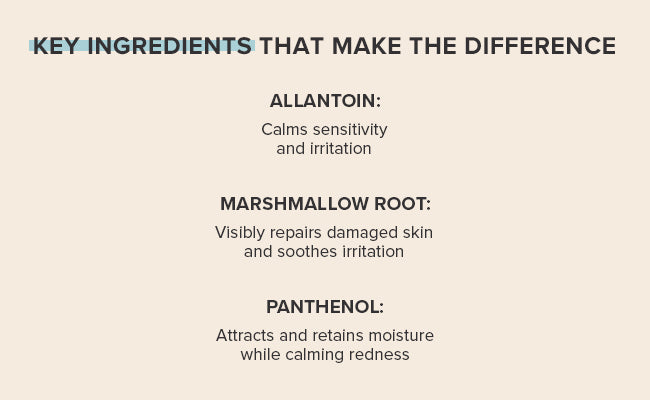 RESEARCH
Phytotherapy Research, March 2021, pages 1,389–1,398
Frontiers in Pharmacology, March 2020, pages 1–14
Biochemical and Biophysical Research Communications, January 2020, pages 40–46
International Journal of Cosmetic Science, December 2019, pages 534-547
Planta Medica, August 2019, pages 917–924
Journal of Cosmetic Dermatology, January 2019, pages 346-354; and April 2018, pages 138-144
European Journal of Pharmacology, February 2018, pages 68-78
Journal of the American Academy of Dermatology, June 2017, Volume 76, Issue 2, Supplement 1
INGREDIENTS
Key Ingredients
Allantoin⁠, Althaea Officinalis Root Extract⁠, Panthenol⁠, Ophiopogon Japonicus Root Extract⁠, Sodium PCA⁠

All Ingredients
Water⁠, Pentylene Glycol⁠, Glycerin⁠, Propanediol⁠, C13-15 Alkane⁠, Panthenol⁠, Polyglyceryl-6 Oleate⁠, Ceteth-20 Phosphate ⁠, Sodium PCA⁠, Ophiopogon Japonicus Root Extract⁠, Ammonium Polyacryloyldimethyl Taurate⁠, Cetearyl Alcohol⁠, Allantoin⁠, Sodium Hyaluronate⁠, Dicetyl Phosphate⁠, Maltodextrin⁠, Althaea Officinalis Root Extract⁠, Ethylhexylglycerin⁠, Sodium Phytate⁠, Pantolactone⁠, Phenoxyethanol⁠
FAQ
What is the difference between the CALM Nourishing Milky Toner and other Paula's Choice Toners?
<br><br>
While all Paula's Choice toners are fragrance-free and loaded with antioxidants, replenishing, restoring and soothing ingredients, the CALM Nourishing Milky Toner was specifically formulated for those with reddened, sensitive or compromised skin. It hydrates and eases discomfort while also addressing the first signs of aging.
<br><br>
What's the difference between the CALM Nourishing Milky Toner and the SKIN RECOVERY Enriched Calming Toner?
<br><br>
The CALM Nourishing Milky Toner is a specialized formula that offers a robust list of ingredients that soothes, restores skin's barrier and visibly reduces redness and sensitivity. Suitable for all skin types, this toner helps to strengthen skin's barrier, so it becomes less reactive over time. The SKIN RECOVERY Enriched Calming Toner is a great option for those whose primary concern is dry to very dry skin with minor signs of visible aging. It's a milky, hydrating formula with additional non-fragrant plant oils and emollients help to nourish and eliminate dry, flaky skin.
<br><br>
Can I use the CALM Nourishing Milky Toner if I have blemish-prone skin?
<br><br>
Yes, the CALM Nourishing Milky toner is a great option for those with oily + acne-prone skin and can be used as a toner or liquid moisturizer. The panthenol, marshmallow (Althaea officinalis) root and Ophiopogon japonicus root extract help improve skin's barrier and reduce irritation. Additionally, it contains clinical levels of allantoin which can help fade signs of post-blemish marks.
<br><br>
My skin stays red after cleansing, will the CALM Nourishing Milky Toner instantly reduce the redness in my skin?
<br><br>
Yes, the CALM Nourishing Milky Toner can help visibly reduce redness, assuming you're using a fragrance-free, skin-softening, water-soluble cleanser along with tepid (not too hot or cold) water first. On application, this toner will immediately replenish skin and deliver skin-strengthening and calming ingredients that soothe redness and irritation. With continued use, redness will continue to decrease.